We're all about the superfoods at Nekter, if you haven't noticed. Offering fruits and veggies and other food options like bee pollen, that are packed with nutrients, vitamins, and antioxidants, is very important to us, as we want to make sure that you're getting the best ingredients for your body. This is why we've recently added bee pollen as a superfood topping to our bowls. Bee pollen is incredibly nourishing and contains almost all of the nutrients that humans need to survive. They're rich in proteins, vitamins, and amino acids. Eating bee pollen is like getting a surge of energy (good energy – not like the sugary stuff you get in energy drinks). Although bee pollen is often attributed with countless health benefits, here are our 5 favorite benefits of bee pollen:

Bee pollen improves endurance and vitality, which is very important for people who live active lives. If you're working out, try adding some bee pollen into your diet, especially if you're an athlete or yogi. Bee pollen is thought to extend longevity and to help you recover from chronic illnesses faster!
Bee pollen is great for reducing cravings and addictions. It helps regulate your digestive system which we all need, right? It's filled with Lecithin, which helps flush out the fat in your body, and it also stimulates your metabolism, which aids with weight loss.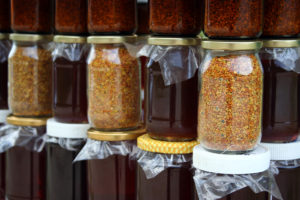 Bee pollen is a great remedy for allergies. It is most effective when taken on a regular basis about 6 weeks before allergy season begins, but once you do, it's a great help! If you suffer from allergies, you know how debilitating they can be. Bee pollen is said to help desensitize your immune system to those pesky allergens, so they don't affect you nearly as much!
Bee pollen is great for your skin! Including it in your diet on a regular basis can dramatically help reduce acne and support glowing skin. It's rejuvenating skin powers can be experienced by adding it to your diet, or including it in your skin regimen.
Bee pollen even contains a substance that acts as an antibiotic against some bacteria such as salmonella. Researchers have shown that bee pollen regulates the intestines after being exposed to harmful bacteria. Because we are exposed to so many harmful things on a daily basis, it definitely wouldn't hurt to make bee pollen part of our regular diet to help combat those pesky bugs! 
Have you tried our bee pollen topping yet? Let us know what you think. Personally, we love it on our new acai-mango bowl but you can add it as a topping to any acai or pitaya bowl!
Photo by: girlsonthegrid.com
Allergy note: Bee Pollen is often used to strengthen the immune system and decrease the severity of seasonal allergies. However, if you are allergic to bees, you may want to try testing your sensitivity by tasting a single pollen pellet, or trying out one of our other Superfood Add-ons!
Need to know more bee pollen benefits? Check out the top 10 bee pollen benefits over at Be Healthy.