Tart Cherry Skinny Skoop is a refreshing and light treat for satisfying your sweet tooth while staying on track with your resolutions. And it's only 98 calories!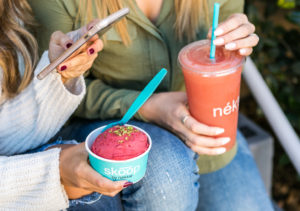 Refresh your New Year's resolutions with a Skoop of metabolism-boosting sweetness. Raspberry, blackberry, tart cherry, lime juice, agave, honey, and a sprinkle of lime zest on top. It's all the nutrients you need to help burn fat, fight inflammation, regulate metabolism, and boost immunity. It's a tangy, delicious, and your new obsession – and at only 98 calories per serving, it's 100% guilt-free! 
Health Benefits:
Cherry benefits: helps with post-workout recovery-high in potassium (which helps maintain blood pressure, hydration, ease muscle pain and regulate heart rate), fights inflammation, regulates metabolism
Raspberry benefits: low in fat and high in fiber to make you feel fuller longer, highest concentrations of antioxidants of any fruit on earth, reduces inflammation, rich in Vitamin C to boost immunity
Blackberry benefits: reduces inflammation, fights infection, boosts immunity, vitamin c-promotes healthy skin
Lime juice: high in vitamin c- which is needed for the growth and repair of tissues, fat burner, eases bloating.
As always, our latest Skoop creation is made fresh in small batches. It's dairy free, soy-free, gluten-free, yet full of delicious flavor.