Marisa Wayne has been asked a lot of questions in her life, but none more frequently than this: "What's it like being the daughter of John Wayne?". Her answer? Pretty cool. Growing up in Newport, she enjoyed a "fairly normal" childhood filled with vacations spent on their now-famed yacht, the Wild Goose, and lots of quality time with Dad.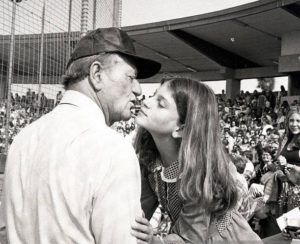 "He was just a very loving, attentive dad, and I cherish the memories of our short time together," Marisa said. "I miss him and wish he could know me as an adult and meet my kids, but I am lucky that I can turn on the TV and see him and hear his voice. He was so loved and admired that I meet people all over the world who share stories with me about their John Wayne encounters."
But she's much more than the daughter of a Hollywood icon. In August of 2013, after three decades of harboring a dream of starting her own exercise studio, Marisa, along with her co-founder Matt Bourne, opened the wildly popular boutique indoor-cycling studio GritCycle. Located in the heart of Costa Mesa, California, GritCycle specializes in high-intensity, full-body spin classes, leading students through a 45-minute choreographed ride specifically designed to push them out of their fitness comfort zones.
"It's pretty cool being the boss lady," Marisa said, "because we have a terrific team."
Lucky us, we recently had a chance to catch up with Marisa for a little Q+A.
1. If you were to create your own Nékter juice or smoothie menu item, what would be in it, and what would you name it? Haha! I've told Alexis my favorite at-home creation is to mix the Ginger Lemonade with some good tequila and a splash of club soda. Does that count? It's delicious. You can use vodka if you don't like tequila. I would name it "The Mar-Grit-Rita!"
2. What three things are always in your grocery cart? Organic chicken breasts, Italian Parsley and Lettuce. I make a lot of grilled chicken salads as a staple, just adding cucumber, garlic, feta to put a Greek twist on it or whatever I'm craving that day.
3. What is one thing people would be surprised to know about you? I flew a plane by myself, twice out of John Wayne Airport. Crazy kid!
4. What's at the top of your bucket list? Macchu Picchu with my kids.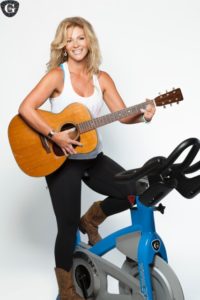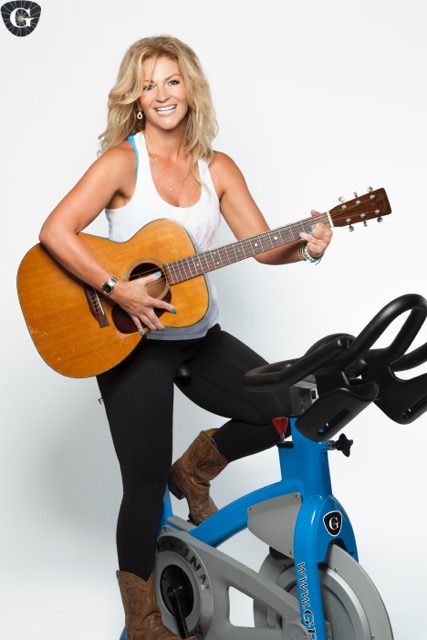 5. Any hidden talents? I attempt to play guitar occasionally, and I'm a decent cook.
6. Juice or smoothie? Depends on the day – either Toxin Flush juice or Popeye's Acai smoothie!
7. Favorite workout (besides Grit Cycle, of course!)? When I get a chance, I go take a class at Ekam Yoga. It's such a great compliment to spin. Ekam is a beautiful studio, and all of the instructors are top-notch.
8. What advice would you give your 20-year-old self? Go to college and don't wait to pursue your dreams!
9. Favorite vacation spot? Anywhere in Italy!
10. Biggest pet peeve? Chewing Ice, not making eye contact, rude and disrespectful behavior.
11. Healthiest habit? Spinning, of course. I'm addicted!
12. Biggest vice? Wine!
13. What one thing do you always make sure you have in your purse at all times? Elixir lip pencil from Holiday Salon. They have a fab make-up line.
14. What's your morning routine? Get the kids ready for school, make myself a cup of coffee, quick shower, spin, Nekter.
15. What's your go-to quick meal? Grilled Salmon with spinach salad.
16. What's the best piece of advice your parents ever gave you? Stay active & have fun.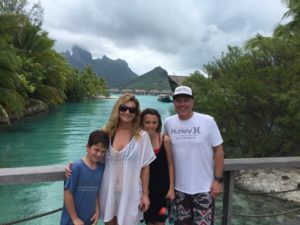 17. What's the best gift you've ever given? I've thrown some pretty rad surprise parties, but I really think Grit is a gift on a broader level. I have customers who tell me it's saved their sanity and helped get them through difficult times, and that it's the best therapy around. 
Received? Wow, this makes me realize how lucky I am, because there are so many. My mom has given me some spectacular jewelry, as has my husband. My brother just took my whole family on vacation with him, and my mother-in-law took our whole family to Bora Bora recently.  
18. Beauty products you can't live without? I use Elta MD skincare tinted sunscreen every day along with Cover Girl Lash Blast waterproof mascara. It's the best I've found to survive an intense spin session. For hair, I also like Kerastase Fluidissme spray for frizz. Nothing can 100% tame my frizz, but it smells delicious!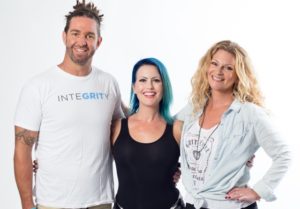 19. Favorite thing about your business? When everyone is working together and hooting and hollering during class, yelling out their friends' names and giving support and encouragement, and being able to give back through Gritty Up and Karma rides.
20. Best movie quote ever? So many to choose from but I gotta go with my dad in McLintock where he says, "Somebody out to teach you a lesson, but I won't, no I won't, the hell I won't" and he lets him have it!
Click here to find out more about GritCycle.