Unless you've been living under a giant rock, you've probably heard about chia seeds by now. No bigger than a speck, this tiny superfood packs a big nutritional punch. Loaded up with plant-based protein, omega-3 fats, fiber and antioxidants, chia seeds are one of the most nutritious foods on the planet, aiding in digestion, boosting your metabolism, creating glowing skin, helping to build muscle, keeping your heart healthy and protecting from certain types of cancer.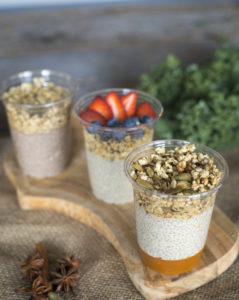 Introducing our new chia parfaits, made fresh in-house each and every day. Not only are these grab-and-go cups of creamy chia pudding goodness a convenient, quick, portable way to eat healthy on-the-go, they're so insanely delicious, you won't even believe how clean they are.
Even better: we have three flavor-filled options available at all Nekter locations to help you get your daily chia fix. Our Berry Chia Parfait is made with date-sweetened, housemade cashew-milk-based chia pudding, and topped off with hempseed granola, fresh berries and agave, while our Cacao Chia Parfait features a cacao-kissed chia pudding to keep our chocolate lovers happy and healthy.
In addition, we have a seasonal fall offering: none other than pumpkin, of course! Our Pumpkin Chia Parfait layers date cashew-milk-based chia pudding with perfectly spiced pumpkin puree, hempseed granola, pumpkin seeds and a sprinkling of cinnamon spice to take it over the top, available for a limited time only.
And for just $3.95, there's never been a more affordable way to eat clean!