Think you're not the cleansing type?? So did our blog editor. Find out what happens when self-professed food-obsessor Katy takes the Nekter Juice Cleanse plunge.
I don't consider myself a "cleanse" type of person. As an avid home-cook and food blogger, it's safe to say that I'm obsessed with food. I awaken each morning mulling over the possibilities for breakfast, and I often spend the evenings after the kids are in bed either poring over a cookbook, or working out to make room for more food. If I am Earth, then food is my sun. It's Katy + Food 4ever.
So despite my deep affinity for green juices, the thought of forgoing my beloved food for an entire day to try out a 1-day juice cleanse has always seemed both unappealing and unnecessary – especially for someone like me who eats very healthfully anyway. Besides, the last time I tried a homemade juice cleanse, I ended up at In-N-Out scarfing down a burger by lunch, convincing myself that because it had no bun, it was fair game.
…That is, until my husband and I decided to take a little Caribbean beach vacay in the dead of winter. Translucently pale skin and a stomach conspicuously devoid of tone thanks to a few lazy months of sweater-weather and holiday overindulgence, stuffed into a bikini and frolicking the beaches of Turks + Caicos?? Not my best look.
Something had to be done. I needed an extra little kick in the keister to really up my game and get myself beach-ready by February. Plus, after an all-out eating bender that stretched from Thanksgiving straight through Christmas, my sweets cravings have gotten a little out-of-control. A little "reset" might be just what the doctor ordered.
And that, my friends, is how I found myself here, preppin' to pop some bottles all day long. And so it begins. Will I see it through or will I end up face first in a bun-less burger come noontime? Read on to find out.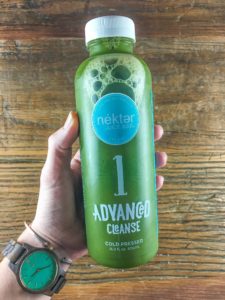 9am: Drink 1
My stomach is grumbling. I'm starving. My first instinctive thought, not unlike a caveman: me want food. But today is my cleanse, so food is a no-go. None of my usual eggs and sweet potato hash. Nope. Instead, my breakfast will be bottle no. 1 – a green blend of apple, celery, cukes, lime, kale, parsley, spinach and mint. It definitely tastes very green, but I think I feel healthier right out of the gate. Must be the parsley – I read it helps reduce fluid retention. I gotta be honest though: I miss chewing.
10:45am:
After 20 straight minutes of obsessing over what it would feel like to gnaw on something, I remember they told me I can have a handful of raw nuts or some avocado wrapped in lettuce if I get desperate. I decide this feels like desperation, so I chow down on a handful of pecans. It's amazing how much nuts taste like a full meal when you're mid-cleanse. That definitely hit the spot. I can now resume thinking about things other than chewing.
11am: Drink 2
The nuts definitely staved off my hunger. Surprisingly, I haven't had any tummy-grumbling since earlier this morning. Now, I'm workin' on a light and actually pretty refreshing blend of filtered water, lemon, agave, turmeric and black pepper. I absolutely love turmeric for its gorgeous color and anti-inflammatory properties, and lemon is great for balancing your blood sugar and keeping your appetite in check, so I'm totally digging this one.
12pm:
I need a little something. I decide to switch it up with a little spoonful of raw 1-ingredient pecan butter. I figure it's the same thing as nuts, so it's totally allowed.
12:30pm:
Ok, I must admit: I'm feeling pretty awesome right now. I have a lot more energy than I usually do at this time of day. I take full advantage and get in a killer 45-minute workout. Nailed it.
2pm: Drink 3
This combo of apple, celery, beet, lemon, parsley, spinach and ginger is pretty strong. It's taking me the longest to finish – probably because I'm sipping on it as I munch on an avocado lettuce wrap that tastes like a full-on taco after a morning and early afternoon with no food. Wondering aloud to myself why I don't eat avocado lettuce wraps for every single meal.
4pm: Drink 4
Still on a high from my lettuce wrap earlier, I didn't think it could get much better. Oh how wrong I was. I looove this one!! I've been wanting to try activated charcoal lemonade since I first heard about it last summer. It's supposed to be super detoxifying and de-bloating but I could never find any in grocery stores, so I was super stoked to crack this puppy open. Just water and lemon and agave and coconut charcoal, I gulped this down within a couple minutes. Yep, feeling pretty detoxified.
5pm:
I need to get my chew on again. It feels like an all-consuming need at this point, but I'm not quite ready for "dinner". Another handful of raw nuts it is!
6pm: Drink 5
I'm gonna be real: by this point, I feel as though I've had my fill of juice for the day…but my tummy is flat, and my energy levels are actually crazy high, so I'm gonna knock it back anyway. Turks + Caicos, Turks + Caicos, Turks + Caicos. Another green blend of cucumber, green apple, spinach, kale, parsley, lemon, swiss chard and celery. Since I know cukes are really hydrating and green apples are really rich in vitamin C and antioxidants, I'm feeling pretty good about this bottle (and this body) right now.
6:30pm:
Another avocado lettuce wrap. I'm actually not even starving like I was sure I'd be. I really just wanted to chew on something that felt not unlike a taco, so this fit the bill perfectly.
8pm: Drink 6
Finally! I've been eyeing this bad boy all day long, day-dreaming about how amazing the almond milk would taste…and I was not disappointed. Ice cream. It totally tastes like melted ice cream. Or no, Christmas in a bottle maybe. Ok yes, it could be the fact that I haven't really eaten much all day long, but a creamy blend of water, almonds, dates, cinnamon, vanilla and nutmeg?? Ain't nothin' wrong with that.
Results:
I wasn't sure how I'd fare with this. I thought I'd be starving all day long and therefore devoid of energy. Truthfully, I was the opposite. Since I pretty much always had something I was sipping on, be it juice or water, I really never had time to be starving, and the nuts and lettuce wraps helped too. I'm a busy stay-at-home-mom who also works full-time from home, so I'll have days when I don't actually have time to stop what I'm doing to put together a meal. I really liked that I didn't even have to think about my meals at all, while still taking in so many nutrients. No prep, no cooking, just grabbed a bottle and swigged it down while I worked. It was a total time saver.
By the end of a typical day, I'm usually exhausted, craving sweets and regretting at least one thing that I ate. Tonight, I feel none of those things. I have so much energy, I'm strangely devoid of any thoughts about chocolate and I'm feeling pretty stellar about every single thing I've consumed in the last 24 hours. Not to mention, my stomach is definitely looking more bikini-ready. I'm sold. Turks + Caicos, here I come!!