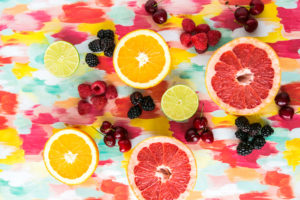 It's no secret that grapefruit helps with weight loss: bodybuilding.com lists it as #3 in their top 6 fat burning superfoods due to grapefruit's unique properties of being high in fiber, low in calories, and the fact that it actually lowers insulin levels in the body, thereby curbing appetite and helping prevent the body from storing as much sugar as fat. Its also known as a "negative calorie" food – it actually takes more calories to digest than it contains!
With a 92% water content (one of the highest water contents of any fruit) it is also extremely hydrating, it's packed with vitamins A and C, it may help lower "bad" cholesterol by as much as 15.5%, and best yet, it's delicious!
Get your daily dose of grapefruit this January with Grapefruit Reboot, Nekter's latest limited-time offer designed specifically to help you achieve your health goals this year. Kick start your metabolism and boost energy levels by adding this zesty citrus blend of Vitamin C, fresh nutrients, and antioxidants to your routine. With grapefruit, apple, orange, and fennel, it's the perfect balance of flavors to sip while supporting your immune system.
Feel like you still need a dessert to satisfy your sweet tooth? Check out our Tart Cherry Skinny Skoop!