Got a sweet tooth? Us too. In fact, we'd scream for ice cream just about every day (twice on Mondays) if it weren't for all that pesky cream…and corn syrup…and just generally uncool ingredients. So what's an ice cream craver to do? Get the Skoop, that's what!
The skinny on these skoops: they're free from dairy, soy, gluten, refined sugar, preservatives and artificial flavors – and even better, it's so smooth and creamy, you'd swear it was your Nonna's homemade gelato. Don't have a Nonna? We'll be your Nonna.
We'd call it an indulgence, but with clean ingredients like cashew milk, honey, sea salt, Tahitian and bourbon vanilla, coconut sugar, and pure cocoa, we don't think we could get away with it. Made in small batches in-store to ensure that "fresh factor," this is one sweet treat that both die-hard foodies and devoted vegans can enjoy, no Nonna required.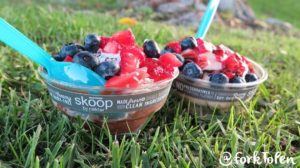 But wait, we can top that! No seriously, we've got toppings. Finish those Skoops with coconut flakes, vegan chocolate chips, chocolate drizzle, strawberries, blueberries, cacao nibs, gluten-free granola and more!
Skoop is currently available at over 60 Nékter locations – to find the nearest Skoop location near you, visit locations.nekterjuicebar.com!