It's that time of year again! And by "that time of year", we mean fall. And by "fall", we of course mean pumpkin season. We know there's no shortage of pumpkin-spiced options come September, but we're pretty sure you won't find a cleaner pumpkin pie than our limited edition Pumpkin Pie smoothie, available at all Nékter locations from October 3 – November 27.   
A creamy, expertly-spiced blend of pure pumpkin puree, banana, dates, cinnamon, nutmeg and our housemade cashew milk, sweetened with a touch of agave nectar, this is one pumpkin pie that won't compel you to pull on your stretchy pants afterward.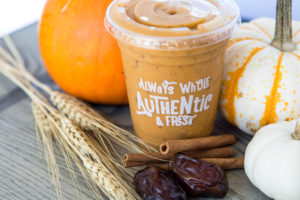 And even better, pumpkin is extremely rich in vitamin A, as well as one of the best sources of beta-carotene there is – both crucial nutrients for optimum eye health. It's also packing some major fiber, antioxidants, electrolyte-restoring potassium, immune-boosting vitamin C and free-radical-crushing phytonutrients that not only help prevent cancer, but also keep those wrinkles at bay. 
Wrinkle prevention and pure pumpkin-y goodness all wrapped up in one little seasonal sipper? Grab one while you can!