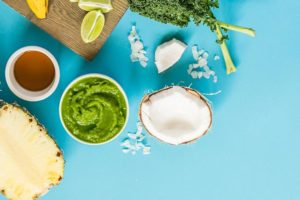 Coconut oil is everywhere these days. It has become increasingly popular over the last few years, and for good reason! Coconut oil is a miracle worker: not only in the kitchen, but also in beauty and hair treatments, to treat certain ailments, and as a quick fix to tons of problems around the house. There have been over a thousand studies on coconut oil and the benefits it  provides to your body, some of which include:
1. Remineralizing teeth
2. Increasing absorption of calcium and magnesium
3. Aiding in healthy thyroid function
4. Regenerating and repairing skin cells
5. Removing cellulite and decreasing wrinkles
6. Boosting hormone production
7. Balancing blood sugar
8. Aiding digestion through antibacterial & anti-inflammatory properties
9. Lowering cholesterol
And here are 10 of my favorite ways to use Coconut Oil:
Hair Conditioner. I'm addicted to dyeing and bleaching my hair, and coconut oil has literally saved my hair and kept me from going bald. I like to take a small amount of coconut oil and rub it through from the ends to about 1″ from my scalp (otherwise my scalp gets really oily),  then leave it on overnight and shampoo it out in the morning. My hair always feels  INCREDIBLE afterward.
Body Scrub. I combine one part oil to two parts granulated sugar and keep it in a mason jar in my shower to use after shaving or just as a general exfoliant. You can also use plain coconut oil  as a shaving cream (that moisturizes at the same time!)
Body Moisturizer. This is pretty self-explanatory, but make sure to rub it in really well and don't use too much or else you'll feel greasy.
Homemade Magic Shell Topping. Ok you can't blame me, I'm a lifelong dessert lover. If you mix a small amount of coconut oil with cocoa powder, it makes a perfect vegan dupe for magic shell topping, which if you haven't heard of it, is a liquid ice cream topping that hardens as soon as you pour it over ice cream. It's incredible and amazing and I love it.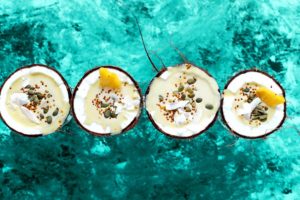 Good source of healthy fats. Over 90% of the fat in coconut oil is made of healthy saturated fats, which are linked to higher energy levels and a maintained healthy weight. I like to substitute coconut oil for fattier, less healthy oils when baking (you can substitute it for any oil, just use the same amount as the recipe calls for).
Good for Cooking. Coconut oil is perfect for cooking because it has a super long shelf life and a higher burning point than many oils, which means it won't smoke or burn as quickly (and cause carcinogens.) It is less fattening, and perfect to cook with.
Sleep aid. Studies have shown that certain people may have a hard time sleeping because they  are not getting enough healthy fats or antioxidant-rich foods. Incorporating more coconut oil  into your diet may help you get enough healthy fats, which in turn will help you sleep better!
Incorporating Natural Biotin. Obviously, coconut oil is great for conditioning hair, but it also rebuilds the protein in hair and strengthens it. With regular use, hair will grow longer and stronger very quickly. You can also rub a small amount on your cuticles to keep your nails strong and healthy.
Whitening Toothpaste. Mixing a small amount of coconut oil with baking soda will create a natural whitening toothpaste (you can also add some essential oils for flavor). Baking soda is a tried-and-true home remedy for teeth whitening, and coconut oil has been proven to kill bacteria in the mouth and help rebuild tooth enamel. Be sure to brush very carefully, as baking soda is abrasive on your teeth.
Pet Health. Coconut oil is beneficial for our pets, too! It can help aid in your pet's digestion and nutrient absorption, keep them at a healthy weight, reduce bad breath, keep their coat healthy and shiny, and help prevent infection (due to the antibacterial and anti-fungal properties).
Those are only a few of the literal hundreds of ways you can use coconut oil. It really is a superfood!
What's your favorite way to use coconut oil?