The last time you've probably heard about chlorophyll was in High School science class, but the research behind it is showing how extremely beneficial it is for our health!
What is Chlorophyll?
Chlorophyll is a green pigment that's crucial in plant photosynthesis, where sunlight is converted into energy. Research shows that it's important in promoting good health. It neutralizes free radicles, supports detoxification in the body, and is a natural deodorizer.
It's an easy and benficial supplement to add into your daily morning routine, as it provides cellular support and helps rebalance the body for a fresh start to every morning.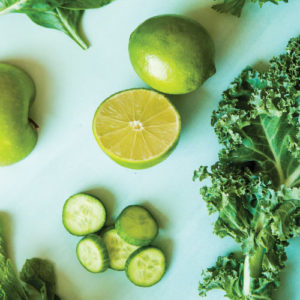 Benefits of taking Chlorophyll:
Boosts Energy & Immunity
Fights inflammation
Binds with heavy metals and helps remove them from the body
Balances hormones
Detoxifies the body
Packed with essential vitamins, minerals, and essential fatty acids (such as iron and magnesium)
Promotes digestive health as it controls hunger and helps reduce body odor
Best Ways to Take It & How to Make a 5 Second Green Drink
Photosynthesis occurs primarily in leaves, so chlorophyll is found in the highest quantities in dark green, leafy veggies. Spinach is absolutely loaded with it, and other great sources are parsley, kale, green apples, and cucumbers. Because of this, most of Nekter's freshly made juices, smoothies, and Grab N' Go drinks will give you a quick, easy and delicious boost of Chlorophyll straight from the source!
Can't make it to Nekter?
Capsules, Powders, or Chlorophyll Drops can also be a great source – try adding these vibrant green drops to your water bottle each morning for a boost of natural energy!
CHLOROPHYLL WATER RECIPE
Natural Spring Water
A Couple Slices of Lemon
1 Teaspoon of Chlorophyll Drops (Quick tip: Look for the mint flavored drops!)
Fresh Mint Leaves
Looking for an extra kick? Instead of ice, add frozen blueberries.
Enjoy your liquid sunshine!