If you're an Insta-foodie, chances are you've at least scrolled through this registered dietitian's health-food-loaded feed a time or two. Her goal: to make healthy eating effortless, delicious and accessible to all. So how does a dietitian fit the daily recommended servings of fruits and veggies into her own day? We caught up with Instagram sensation Rachael DeVaux to find out how she sneaks veggies into her diet, starting with breakfast!
Cauliflower Oatmeal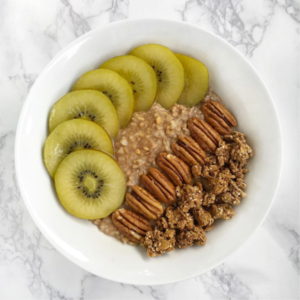 RD: The combination of oats and riced cauliflower is one of my favorite tricks for adding an extra serving of vegetables to your morning routine. It creates only the subtlest change in texture and flavor, while delivering a more voluminous and nutrient-dense breakfast. It feels as though you're eating the heartiest bowl of oatmeal when really, you've swapped half your normal serving of oats for an entire serving of vegetables – vegetables you can't even taste!
Cauliflower is an excellent source of vitamin C, vitamin A, vitamin K, B vitamins, dietary fiber and potassium, in addition to containing health-promoting phytochemicals. In my opinion, you can (and should) do ANYTHING with cauliflower: soup, tabbouleh, dip, buffalo cauliflower bites, cauliflower tots, pizza crust, cauliflower fried rice, mashed cauliflower, sauce, tortillas and now oatmeal. I love to get creative with this crunchy cruciferous veggie. It is the king of all vegetables.
My favorite way to incorporate it into my oats? These protein-loaded Cinnamon Steel- Cut Cauliflower Protein Oats:
Cinnamon Steel Cut Cauliflower Oats
Ingredients:
1/4 cup steel cut oats
1/2 cup riced cauliflower (fresh or frozen) 1 serving vanilla protein powder (optional) 1/2 tsp cinnamon
1/2 cup unsweetened almond milk
Topping:
1 kiwi, sliced (or any fruit) Small handful pecans
1/4 cup granola
Directions: Cook oats according to package on the stove in water. When about 1-2 minutes from being done, stir in riced cauliflower, protein powder, almond milk, cinnamon and let cook another several minutes. Remove and top with sliced kiwi, pecans and granola.
Omelettata: an omelette-frittata hybrid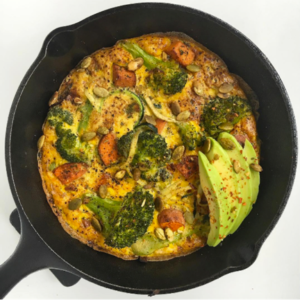 RD: Have you ever tried to make an omelette, but ended up packing it so full it resulted in an immediate fail when you attempted to flip it? Well, that's exactly how I created the omelettata, a magical combination of an omelette and frittata. No flipping involved.
This is easily one of the best ways to pack vegetables into your morning meal, as well as a great way to use up any veggies you need to clear out of your fridge. I've made dozens of flavor combinations with these: Mexican with black beans and corn, Italian with sundried tomato and feta cheese, and others with broccoli, peas, zucchini, and tomatoes. The options are endless, and they always leave me feeling so full and satiated.
Did I mention it's also a one-pan meal? It's simplified to the max, so no having to worry about the clutter of several pans on the stove.
Here's one of my favorite Omelettata recipes:
Mixed Veggie Omelettata
Ingredients:
1/4 cup green bell pepper, diced 80g sweet potato, chopped
1 tbsp olive oil
1/4 cup red onion, diced
1 cup steamed broccoli (cooks quicker) 1/2 cup spiralized zucchini
1 tbsp low sodium chicken stock
1/8 tsp Onion & Herb seasoning Olive/avocado oil spray
3 pasture-raised eggs
Topping:
1/8 tsp ground pepper
1/4 avocado
1/8 tsp red pepper flakes
2 tbsp Tamari pumpkin seeds
Directions: Sauté diced green bell pepper and sweet potato in olive oil until sweet potato becomes tender and starts to brown
Add in red onion, steamed broccoli and spiralized zucchini to cook another several minutes
Add a splash of low sodium chicken stock to skillet if more moisture is needed (instead of more oil)
Season with Onion & Herb
Quickly spray the veggies and toss one last time with olive/avocado oil before pouring in 2 whisked eggs + 1 egg white to prevent eggs from sticking
Make sure eggs cover the entire pan
Let cook on medium for about 3 minutes, or until you notice the outer edges are cooked by pulling away from the skillet
Then, pop the whole skillet in the oven on broil to finish cooking the top, another 3 minutes, or until fluffy and starting to brown
Top with ground pepper, avocado, red pepper flakes and Tamari pumpkin seeds
Easy Peasy Green Smoothie On-The-Go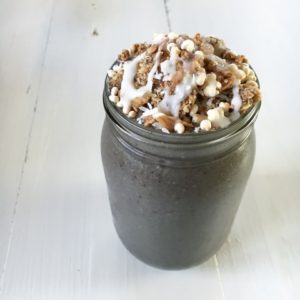 RD: Whenever people tell me they don't have time to eat in the mornings, my response is always "SMOOTHIES, people!" If you can carve out even three extra minutes in the
morning, you have time to throw a few simple ingredients into the blender for a nutrient- packed breakfast-to-go.
Packed with spinach, protein, fiber, antioxidants, healthy fats and a blend of delicious flavors, this Berry Coconut Crunch Smoothie will leave you feeling full, energized and ready to conquer the day!
Flaxseeds are high in fiber, protein and antioxidants, designed to help keep you full while also helping with anti-aging, hormone balance and cellular health. Spinach is an excellent source of vitamin A, which is beneficial for eye health; vitamin K, which plays an important role in blood-clotting; calcium, which is essential for bone health; and several other powerful nutrients, all crammed into one little leaf. Coconut butter provides fiber, potassium, magnesium and iron (coconut butter is different from coconut oil in that it is comprised of both coconut oil and coconut flesh, whereas coconut oil is pure fat). It is calorie-dense, packing about 100 calories per tablespoon, so it's important to stick to the proper portion size.
Berry Coconut Crunch Smoothie:
Ingredients:
1 cup unsweetened almond milk, coconut milk or coconut water 1 tbsp coconut butter
1 frozen banana
1⁄2 cup frozen blackberries
1 serving vanilla protein (optional) 2 ice cubes
1 cup packed spinach
1 tbsp ground flaxseeds
Topping:
1 tbsp shredded coconut 2 tbsp granola
Directions: Blend all smoothie ingredients together in a high-powered blender and top with shredded coconut and granola. Enjoy!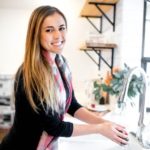 By: Rachael DeVaux
website: http://rachaelsgoodeats.com/
Instagram: https://www.instagram.com/rachaelsgoodeats/