Active in ballet, gymnastics and cheerleading since childhood, it wasn't until Toni Wilkey discovered yoga 16 years ago that she really found her calling.
"I can't think of anything more rewarding than touching lives and helping people feel better," Toni said. "When there is more peace within us, there is more peace on the planet."
But life wasn't always quite so zen. Her jet-setting 8-year career as a flight attendant for Delta Airlines wasn't exactly conducive to her desire to be at home with her children, so she put her life flying the friendly skies on hold to focus on being a stay-at-home mom. And that's when her life as a yogi began.
"I fell in love with the practice and how great yoga made me feel, so I wanted to share it with others," she said.
And share she does. Known for her motivational messaging and transformative teaching style (and let's face it, her amazing physique), Toni is definitely taking the OC yoga scene by storm, regularly headlining sold-out classes. We had the chance to catch up with her to play a little game of 20 questions. 
1. If you were to create your own Nekter juice or smoothie menu item, what would be in it, and what would you name it? 
It absolutely would be juice, made of kale, parsley, spinach, celery and cucumber, with a RIDICULOUS amount of lemon and ginger. An alkalizing, low glycemic, & anti-inflammatory concoction. I'd call it "Pucker-Up".
2. What three things are always in your grocery cart? 
Arugula, lemons and kalamata olives.
3. What is one thing people would be surprised to know about you? 
I'm actually a very introverted person. I enjoy spending most of my time with family & reading. Also that I unfortunately have a big sweet tooth!
4. What's at the top of your bucket list? 
This is an interesting question for me, personally. Of course, I love traveling, growing and exposing myself to new things/places, but I don't have any grand activity I feel like I need to do to in order to feel fulfilled. I feel content and grateful for what I have. I guess if I had to choose something, it would be to live a healthy, long life with my husband, and see our grandchildren and greats someday. 
5. Any hidden talents? 
Cake decorating, playing guitar and piano and interior design. I also make a mean apple pie! 
6. Juice or smoothie? 
Definitely Juice!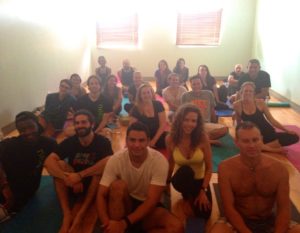 7. Favorite workout? 
Big surprise… yoga! But low-impact strength training at home is a second fave. 
8. What advice would you give your 20-year-old self? 
Don't worry so much, it's okay not to have all the answers, stay open minded. Never say never.
9. Favorite vacation spot? 
Hard to pick just one. Paris has been my first love since high school but Bali, Tuscany and Copenhagen are right up there!
10. Biggest pet peeve? 
People chewing loudly and people eating off my plate! 
11. Healthiest habit & biggest vice?  
I try to practice balance. I definitely indulge and enjoy, but to balance that out, I try to keep my daily three meals very clean and what I put on my body chemical-free. Oh, and my Nekter juice habit. 🙂 My vice: lately, mint chip ice cream. Life is short!
12. What book are you reading right now?  
My current reading includes catching up on news and blogs on health, wellness, nutrition and design. But my three all-time favorite books are:
A New Earth – Eckhart Tolle
The Four Agreements – Miguel Ruiz 
Your Life Is Your Message – Eknath Easwaran
13. What one thing do you always make sure you have in your purse at all times? 
My Honeybee Gardens Vanilla Lip Balm. 
14. What's your morning routine? 
I brew my morning tea or sometimes make a latte with breakfast. Usually I catch up on morning news, but I've skipped that step lately – I'm currently on a news detox! I also try to take time in the mornings to feed my soul by either listening to podcasts or reading something uplifting to get inspiration for class. 
15. What's your go-to quick meal? 
I have two: my favorite arugula salad (obsession), and gorgonzola and pine nut salad.
16. What's the best piece of advice your parents ever gave you? 
On Life: live by the golden rule – treat others as you would want to be treated.
On Relationships: if you want to know if someone truly loves you, you won't have to wonder. Their actions will speak louder than words.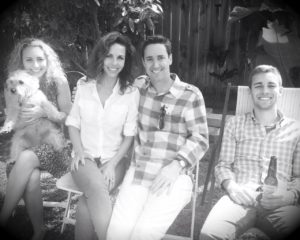 17. What's the best gift you've ever given? Received? 
Hmm, that's a tough one. I wouldn't say material gifts are my forte, but I hope that sharing my passion for yoga is a gift that inspires and helps others to change their lives for the better. The best gift I've ever received? Feb 5th, 2009: the day my husband's oncologist delivered the news that he was cancer-free. 🙂
18. Beauty products you can't live without?
Makeup: All things Laura Mercier. I'm obsessed! My fave is their tinted moisturizer. 
Skincare: You won't find me without coconut oil (a natural makeup remover, deep conditioner and skin moisturizer), Noble zinc face soap, and Trader Joe's Oatmeal & Honey body soap.  
Hair: I've been hooked on Pureology products for years now. 
19. Favorite thing about your business? 
That my job doesn't feel like work, and I get to help people feel better in their bodies and better in their lives. Another job perk: I can go barefoot and play my favorite music. 🙂
20. Best movie quote ever? 
"There's no place like home" from The Wizard of Oz.  I love the many powerful and spiritual metaphors in that movie.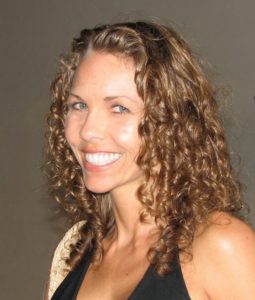 To learn more about Toni, visit her website at toniwilkeyyoga.com, or check out her class schedule to see her in action.