It's been 8 years since Angela Mader turned her little homemade fitness and nutrition journal into a full-fledged business, her flagship product fitbook now gracing the shelves of major retailers like Target and Walgreen's across the nation. A self-proclaimed Type-A personality who struggled with disordered eating and body dysmorphia for several years, Angela first created fitbook as a way to keep a personal log of her food, workouts and fitness goals. When a class project during her MBA program got her thinking a little bigger, her company fitlosophy was officially born.
"I wanted to create a research-backed concept that was designed so well that someone using it could be successful without needing to understand anything complex," Angela said.
And create she did, now offering a full and ever-expanding line of products for the health-conscious consumer, including everything from fitspiration gratitude journals and food scales to protein shakers and workout clothing. Her main goal? Redefining how people integrate fitness into their lifestyles, thus improving their lives and (literally) changing the shape of our world.
"Nothing compares to seeing one of our fitbookers featured in a 2-page spread in Good Housekeeping magazine because she lost 140 pounds using fitbook. Or another fitbook success-story megan, who was featured in Women's Health and the New York Post after overcoming heart disease and losing 80 pounds (and counting) through the process of journaling," said Angela. "This is why I do what I do."
1. If you were to create your own Nekter juice or smoothie menu item, what would be in it, and what would you name it?
Our office is within walking distance to the CDM location so we often take walking lunch breaks and I order the same smoothie almost every time: blueberries, spinach, almond milk, cinnamon, almond butter + protein powder. I call it the "T-on-it" since the recipe is inspired by one of my employees, Tianna, who is my right-hand woman.
2. What three things are always in your grocery cart?
Eggs, avocado + wine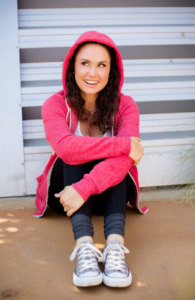 3. What is one thing people would be surprised to know about you?
That I was the Prower's County rodeo princess and competed in high school rodeo growing up. Yee haw!
4. What's at the top of your bucket list?
Probably live abroad for 3 months and travel through Europe with no plans: backpack through Spain, learn to surf in Croatia, study architecture in Italy…just explore and be.
5. Any hidden talents?
My ability to drink insane amounts of coffee is highly impressive.
6. Juice or smoothie?
Depends on how hungry I am! Juice pre-workout, smoothie post-workout…with protein, of course.
7. Favorite workout?
I have workout A.D.D. so I need variety but my go-tos are spin class, pilates on the reformer, a long run on the beach or lifting weights solo in the gym.
8. What advice would you give your 20-year-old self?
Work less, sleep more and be pickier about who you date – if they don't open the door and treat you like a lady, move on.
9. Favorite vacation spot?
 Italy, hands down.
10. Biggest pet peeve?
I'm a grammar snob: Y-O-U-R-E means "you are"… Y-O-U-R means "your!"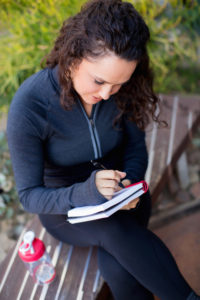 11. Healthiest habit? Biggest vice?
Healthiest habit: Journaling – literally putting pen to paper is how I stay sane. From gratitude and goals to workouts and food, it keeps me mindful of my thoughts, choices, and habits. Biggest vice: coffee. Although I have been drinking it black these days, so that's not so bad, right??
12. What book are you reading right now?
"Food Freedom Forever" by Melissa Hartwig, creator + author of Whole30 and "My Brilliant Friend", the first in the Neopolitan novel series by Elena Ferrante.
13. What one thing do you always make sure you have in your purse at all times?
A fitbook pen – they're tiny and I hate being without a pen, so I have one stashed in every single purse. #workperk
14. What's your morning routine?
Coffee, journal, workout, eat, work, shower eventually, work…
15. What's your go-to quick meal?
Eggs & avocado for breakfast, lunch, linner or dinner.
16. What's the best piece of advice your parents ever gave you?
Work hard, have faith & never get too big for your britches.
17. What's the best gift you've ever given? Received?
Before my mom passed away, she had just started a photo book with detailed captions of my parents last trip to Spain together.  I did my best to complete her vision and flew home to surprise my dad for father's day with the photo book in hand. To lighten the mood and make dad smile, my brother hid me in a huge BBQ box and I jumped out to surprise him. He almost had a heart attack…ha! Best gift received? My father gave me my mother's wedding ring.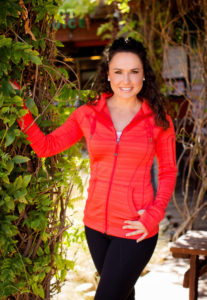 18. Beauty products you can't live without?
"Oh baby" lipglass by MAC, SPF 34 SkinMedica tinted CC cream, Maybelline Great Lash mascara in brownish black, and Bumble & Bumble curl cream to tame my mane.
19. Favorite thing about your business?
That our products truly do change lives – I often say that we sell hope, not hype.
20. Best movie quote ever?
"All I'm saying is that somewhere out there is the man you are supposed to marry. And if you don't get him first, somebody else will, and you'll have to spend the rest of your life knowing that somebody else is married to your husband." (When Harry Met Sally)  Because deep down I'm a hopeless romantic who loves to laugh!
To find out more about fitlosophy or purchase any of their products, visit their website at www.getfitbook.com.
Looking for more ways to lose weight, according to science? Check out this article with 11 great tips!